Scott Kacsmar a football "Geek"
Scott Kacsmar a writer for Cold hard football et Bleacher report took some times to answer our questions to explain his work and help us to understand the outcome of the last draft. Here you can enjoy his expertise and analysis.
First things first, for our readers that don't know you, could you please present yourself shortly? Do you have a favorite team?
My name is Scott Kacsmar. I am from Pittsburgh, Pennsylvania, so naturally I have rooted for the Pittsburgh Steelers for as long as I can remember. When I became a fan of the team the passing game was not up to par, so I do appreciate generational talents like Dan Marino, Jerry Rice and Peyton Manning. You could say they are my all-time favorite football players. Since I started writing, I realized you do have to take some level of interest in all 32 teams to cover the league properly.
In addition to football I am also a big fan of films, hoping to one day parlay sports writing into a screenwriting career. If you are wondering, then yes, I do enjoy French cinema, though mostly the classics like Les Diaboliques and Rififi.
You're specialized in statistics, so can you tell your journey to become a football "geek"?
I guess I have always been infatuated with analyzing numbers and documenting history. Collecting sports cards as a little kid, I would often read the statistics on the back of them for hours at a time. I was a fan of professional wrestling back then, so I would keep track of how long wrestlers held championship titles in regards to dates and days. Obviously we have Wikipedia today to do that for us. I also documented every movie I watched in a notebook.
This was all before I owned a computer, which I don't think I had until around 1999. Soon after, I discovered the power of Excel and spreadsheets. After ditching wrestling in 2001, I took a deeper interest in following the NFL and sports. In high school I started making spreadsheets for the game logs of quarterbacks. There was not as much information readily available on the internet like there is today. There were no advanced stat sites like Football Outsiders, Pro Football Focus, Cold, Hard Football Facts or Advanced NFL Stats yet. As time went by I started branching out into other datasets, such as tracking Pro Bowls, 4,000-yard passing seasons and much more.
NFL Network became part of my cable package in January 2005, and I started watching it on a daily basis. Between that and the coverage from ESPN, I was getting fed up with some of the analysis the so-called "experts" would often provide. I felt I could do a better job in providing a fact-based look at the game that did not rely on selective memories to prop up or put down a player.
I think the 2005 season is when I started collecting games (video) by any means necessary. If you watch games to pick up on patterns, then do the research to quantify these things to see if they are relevant, then I think that's doing the game justice as an analyst. There's so much that can be quantified in the game, but it does take hard work to do so, and I have always been willing to do the grunt work.
I attended the University of Pittsburgh where I received a Bachelor's degree in Industrial Engineering, so I had a very analytical background, even doing a few projects on NFL stats. Unfortunately I graduated in 2008, which was the year of a big recession in the United States, so it was very difficult to find work in the field, especially locally.
That summer I had already sold my first database to Pro-Football-Reference (PFR), which was a collection of games started by quarterbacks going back several decades. After graduating I started spending more time on researching data, creating the first standardized database for fourth-quarter comebacks and game-winning drives. This topic led to me seizing the opportunity to start writing since I found a good niche on something no one else had.
There also came a point where I realized I could use my educational background to cover football. Breaking down video to create statistics is no different than the time-and-motion studies done by many engineers. I just get to do it for something I love to watch. Creating different efficiency metrics is another application of my degree. The game theory involved in play-calling is also a math nerd's dream that is played out each week with the many decisions made in every NFL game.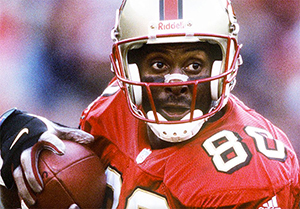 I knew I never wanted to be a "they won because they wanted it more" type of writer, but I could still tie a humanizing story into the statistics to try to explain why things are the way they are.
After doing a few articles on PFR, I came up with the idea for a "Captain Comeback" column, which was going to go over all the close games in the NFL week for the 2011 season. But after PFR shut down the blog, I needed a new destination to write.
I saw an ad for a new company called Football Nation and signed up for that. I was quickly added to the Cold, Hard Football Facts section of the site where I began writing in August 2011. "Captain Comeback" debuted that season and it was a successful one for me. I won the Football Nation "Writer of the Year" award, while also getting opportunities to work on research with NFL Network for their Football Freakonomics series, and I even did a special article for Sports Illustrated last May, just 10 months after I started writing on a weekly basis.
Football analysis has come a long way since I started creating Excel files a dozen years ago. The hardcore "statheads" may still be a niche group, but you could see the big networks buying into our work on a daily basis. I think people are ready for a smarter brand of football analysis, and I like to think I have been contributing to that movement.
Here in Europe, we not always have the numbers approach. Can you explain us how important statistics are in American sports?
I think statistics play a major role in American sports. Whether it is for fantasy sports, the love of math nerds like myself or two drunks in a bar trying to win an argument, there are always numbers being tossed around. Sometimes it can be dangerous due to small sample sizes, but that's not stopping anyone here from pimping certain stats.
Just as a recent example of how big numbers are, I was watching a NBA playoff game and ESPN made note of how many times Carmelo Anthony passed the ball in Game 6. I think 10 years ago you would have never seen this level of detail in statistics, but people want to know such things now.
I'm hoping we can continue to create and promote more advanced statistics to get a better understanding of the game for all sports.
I've read that you revolutionize the way some stats are calculated. Can you tell us a bit more about it?
How much space do we have?Basically, I have been tracking fourth-quarter comebacks and game-winning drives engineered by quarterbacks for about nine years now. After doing some historic research on older quarterbacks, I found that John Elway, who was always credited with a "NFL record" 47 comebacks by the Denver Broncos, only had 34 comeback wins, which was tied with Johnny Unitas for the second most at the time. Dan Marino actually had the record with 36, and the difference was in how the teams counted a comeback.
Denver would count everything as a comeback, even if the Broncos did not trail in the fourth quarter. The main point is for it to be a comeback, there must be a deficit. A game-winning drive is just the drive that puts the winning team ahead for the last time, which can happen when the game is tied. They are two related, but separate statistics that I have created. The Elias Sports Bureau knew about this Elway/Marino difference back in the mid 90s, but no one ever did anything to change the perception Elway was the record holder by such a wide margin.
So I presented the Elway/Marino data on Pro-Football-Reference in August 2009, then continued to write about it before putting the data for every quarterback on the site. That's helped me become the national authority on the topic, though it probably helps that no one cared as much about it as me.
Since then fans have been able to freely access these numbers, leading to many adopting the use of fourth-quarter comebacks and game-winning drives as two stats. It even led to the NFL officially recognizing the leaders in game-winning drives in their annual Record & Fact book, starting in 2011.
To this day the Denver Broncos have never returned any of my e-mails or calls on the topic, though now that Peyton Manning is first in fourth-quarter comebacks (38) and second in game-winning drives (49) to Marino, maybe they will finally break down and make the changes.
You can find the entire story, which does include a conspiracy theory, on my blog at http://captaincomeback.wordpress.com/.
I currently do a weekly update of all the comebacks and game-winning drives at Pro-Football-Reference, while writing a weekly "Captain Comeback" column on Cold, Hard Football Facts, detailing all the close games from the week.
It took baseball writer Jerome Holtzman nine years to get Major League Baseball to acknowledge saves as an official statistic for pitchers. I am hoping to beat that time for the NFL on fourth-quarter comebacks and game-winning drives.
How long have you been a football analyst? Where can we find you writing?
I have been collecting and analyzing data for at least a decade now. In terms of writing, my first article was not until August 2009, while I did not start writing on a consistent basis until summer of 2011. I keep an archive of my articles at http://captaincomeback.wordpress.com/archives/.
Currently I write on a weekly basis for Cold, Hard Football Facts and Bleacher Report. During the season I write a detailed stat/video breakdown of Andrew Luck's latest game at Colts Authority. I have also written for NBC Sports and one special piece for Sports Illustrated.
Which statistic is the most relevant to grade a player? Which one is the most useful to you?
It depends on the position. For quarterbacks, I always like to say there is no one perfect stat even though countless people (myself included) try to find one. If you could only choose one, then yards per attempt (YPA) is a trusted indicator that has stood the test of time.
Anything that focuses on efficiency (percentages) is probably going to be better than adding up raw totals (counting stats).
With this 2013 draft now in the book, generally speaking what are your first thoughts?
It was such a strange first round with all the offensive linemenLinemen
littéralement, les hommes de la ligne (de scrimmage). Il y a les linemen offensifs et les défensifs. Ils s'opposent dès le snapSnap
signal de départ de l'action, quand le centre transmet la balle au QB. donné., one unexpected quarterback and no running backsRunning Back (RB)
Terme générique qui englobe les HB et les FBFullback (FB)
coureur puissant et polyvalent. Il joue le rôle de bloqueur, de receveur et de bulldozer balle en main. Constitue avec les halfbacks (HB), les running backs (RB)... Two guardsGuard
homme de la ligne offensive placé à droite et à gauche du center. Il doit protéger le QB et creuser des brèches aux RB. taken in the top 10? That's heresy in recent draft history. My first thought is this will be a very tough draft to grade with so many of the top players being at positions that are not easily quantified. Good luck to anyone trying to credibly compare Eric Fisher, Luke Joeckel and Lane Johnson.
This year which pick surprised you the most? Why?
I never would have expected E.J. Manuel to be the first quarterback taken, especially halfway through the first round to Buffalo. I know people had him climbing the draft boards, but he was rarely above the likes of Ryan Nassib and Matt Barkley, let alone Geno Smith. Guess it says a lot about how the league felt on this year's quarterback class.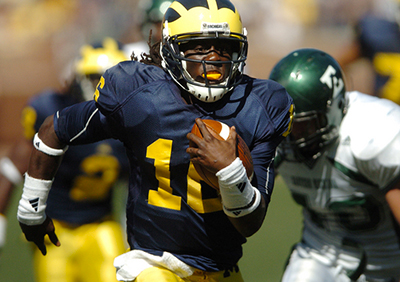 With your expertise, who's the steal of this draft?
In terms of the first round I really think defensive tackle Star Lotulelei falling to the Carolina Panthers at No. 14 is a major steal. Many felt he was the best defensive player in the draft, and the Panthers just had to sit there and watch him fall to them. Should be another building block for that defenseDefense
escouade spécialisée dans la défense. the way linebackerLinebacker (LB)
joueur de la défense polyvalent qui constitue le 2ème rideau défensive. Luke Kuechly was last year.
Past the first round, Oakland may have a steal in Arkansas quarterback Tyler Wilson in the fourth round, but I wish he would have gone to a better team to develop him as a future starter. I like his ability to still throw well under pressure, which is something someone like Landry Jones (Pittsburgh's pick) lacks as more of a system quarterback.
The Jaguars are desperately searching for a playmaker, so what to think about the selection of Denard Robinson? Can they develop him into a solid player?
They are going to have to take the approach Pittsburgh used with Antwaan Randle El. Commit Robinson to being a wide receiverWide Receiver (WR)
ceux sont les receveurs écartés. Ils sont spécialisés dans les réceptions des passes très longues. Ils sont extrêmement rapide : 40 yards en 5 sec., and then they may have someone who can be productive. Randle El and Robinson both left college as the all-time leader in rushing yards by a quarterback. The only passes Robinson should be throwing in Jacksonville are to wide-open receivers on trick plays.
The Manti Te'o and Tyrann Mathieu picks are intriguing as well, do you think they are in the right place to succeed? Or will maybe will they have troubles adjusting to the big league?
Manti Te'o reminds me of A.J. Hawk from the Packers. He's an overhyped player with a great college career at a major program, but in the pros he will find there are no more service academies on the schedule like at Notre Dame. The bad performance he put on tape against Alabama in the championship game could show up often against NFL teams. Falling to San Diego in the second round is probably not a bad spot, as no one is going to confuse him for being the next Junior Seau. My expectations are not high for him.
The third-round pick used on Tyrann Mathieu confuses me. There is a possibility the Arizona Cardinals were the only team in the league willing to touch him just because they think they have a unique support system in place with his LSU teammates in Patrick Peterson and rookie Kevin Minter. A few years ago Mathieu might have been a high first-round pick, but I think teams learned from the Adam "Pacman" Jones debacle. The Cardinals are definitely adding a risk to the locker room here.
What do you think about the league going international through this draft with Ansah, Werner, Watson, Okoye?
If a guy can play then it really doesn't matter which country he originates from. There will be pressure for them to have success, if only because it could help others from their countries make the same path to the NFL. I think it's worked well in the NBA, so expect to see more of this in pro football.
Which team may have done the best draft? The worst?
Often times the rich get richer, and I think the San Francisco 49ers had another strong draft. They got safetySafety
Signifie deux choses différentes :
1- c'est le plaquage du porteur du ballon dans sa propre zone d'en-but. Cela rapporte 2 points à l'équipe qui l'effectue et elle récupère la possession du ballon. L'équipe victime du safety va alors dégager depuis ses 20 yards au moyen d'un botté façon puntPunt
action utilisée en 4ème tentative et x yards à parcourir. Plutôt que de tenter les x yards, l'attaque choisit de botter le plus loin possible pour faire reculer son adversaire..
2- c'est un poste en défense. Le safety est en quelque sorte le dernier rempart. Il tient en quelque sorte le rôle d'un libéro en football européen. Eric Reid to replace Dashon Goldson. They may have grabbed a few steals in DE Tank Carradine, WR Quinton Patton and RB Marcus Lattimore. Some of those players were injured, dropping their stock, but the 49ers already have so much talent they could afford to wait to reap the benefits later.
As for the worst, I have no idea what the Dallas Cowboys were doing early in the draft. After a suspect trade from 18 down to 31, they take a centerCenter (C)
c'est le joueur de la ligne offensive qui transmet le ballon entre ses jambes au QBQuarterback
c'est le stratège de l'équipe. Il décide des tactiques avec ses coachs. Il est chargé de transmettre la balle à ses coureurs et de distiller les passes à ses receveurs. lors du snap. with a third-round grade. That's poor value. Then they take a tight end in the second round while Jason Witten is still catching 90 passes a season. They did redeem themselves with later picks, but early on the strategy to get better now was nonexistent.
As an insider, can you give us a stat or a fact we may have missed?
There's a fact I found this offseason that has great trivial value, though it may just be a result of incredible coincidences.
All seven Super Bowl winners since the 2006 season played the NFC East and the New England Patriots in the regular season. The only team scheduled to play those teams in 2013 is Denver, which is my Super Bowl pick for many better reasons than this, but it is still an interesting fact.  
To conclude, have you already heard about French football or more widely about European football?
Honestly, when I hear about "European football" I immediately think of soccer. So I cannot say I am familiar with our brand of football on your side of the world. But I do know from the London games and interacting with fans on Twitter (@CaptainComeback), there are NFL fans all over the world. They know the latest news and even some of the history of the game.
I'm not sure how long Europeans have been this interested in the NFL, but it's definitely a growing market. When I see someone in Australia retweet my stats or a person in Europe reference fourth-quarter comebacks on their blog, I understand the global reach this game has.
As someone who is always looking to share his work with others, I welcome anyone finding an interest in the NFL. I hope to keep producing articles and data that make people think differently about the game.